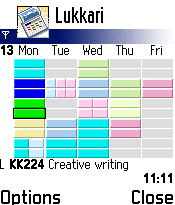 Here's a handy program that brings your course schedule to your Java enabled mobile. Its features include:
Remembers all your courses from Monday to Friday.
Can handle overlapping courses. (Unlike most students…)
Displays an overview of the full weekly schedule in full living color (or grayscale).
Keeps track of time and tells you where you should be next.
Can copy and paste courses.
Can save and load multiple schedules.
Can import and export the schedule via SMS or WAP (note: may cost money), although this is still a bit impractical at the moment.
Adapt to the available display resolution and thusly work on nearly all Java handphones.
Best of all, it's free!
In order to use Lukkari (N.B. Lukkari means school schedule in Finnish.) you need a phone that supports at least Java MIDP-1.0 and preferably has a color display.
In order to compile the source code, you'll need a Java 2 Micro Edition development environment, for example Sun's Wireless Toolkit 1.0.4 or newer.